Our exhibitors
The great flexibility and visibility of the products' assortment in the new displays improve the offer range and thus the service to the customers.
The displays are divided into BASE - STANDARD - PROFESSIONAL and are designed to have a modular and sectional system of slatted panels with two, three or four rows of hooks from which to hang products. It is also possible to hang one or more shelves on the slatted panels to display non-packaged articles. In addition, Standard and Professional displays can be equipped with sliding glass panes to which a security lock can be attached.
In addition to the range of modular displays, we offer:
- the line of COUNTER DISPLAY UNITS, which are practical to be positioned inside the shop and are more visible to customers;
- the DRAWER UNITS, useful for tidying up the warehouse and for better storing everyday tools.
Base
1 MODULAR PANEL
Small display ideal for starting with a basic assortment.

Dimensions:
L=110 cm • H=90 cm • P=30 cm 
Standard
2 MODULAR PANEL
Consisting of two displays "BASE"; it can be composed according to customers' needs. Suitable for those who want a good variety of products waiting to increase and improve the offer range.

Dimensions:
L=110 cm • H=145 cm • P=36 cm
Professional
3 MODULAR PANEL
Big display consisting of three panels BASE which allows you to show a large variety of items. With two or more displays you get the complete assortment to meet all the needs of professional woodworkers.

Dimensions:
L=110 cm • H=200 cm • P=36 cm
Counter display units
Small displays easy to place and to be seen from the customers.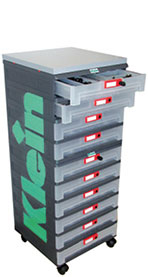 Drawer unit
MODULAR DRAWER UNIT
Elegant, sturdy Klein® drawer unit with an innovative, modern design and great modularity where you can keep all your Klein® tools in a clean, secure and weel-organized place. Say good-bye to messiness and damaged tools. Now, with the new Klein drawer unit, you can put your storeroom in order in a convenient and functional way.

Dimensions:
L=50 cm • H=110 cm • P=37 cm